Crimson Electronics
Crimson Electronics amps and preamps are designed and hand-built in Wemyss Bay (in Renfrewshire, Scotland) and in Newcastle-Under-Lyme (in Staffordshire County, England) by Crimson Products Ltd. owner Peter More and founder Brian Powell.
Crimson Products Ltd. was founded by Brian Powell in 1976 as a small specialist company producing amplifier modules for the flourishing British hifi kit market. In 1979, Brian introduced the innovative Crimson 500 series preamps and amplifiers, followed by the 600 series in 1983. The 600 series preamps and amplifiers established the distinctive form factor seen in all Crimson preamps and amplifiers to this day.
The Crimson 710 Preamplifier
$7000.00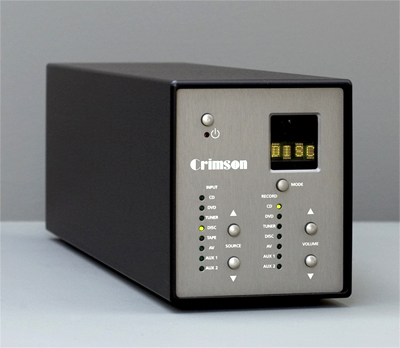 The Crimson 710 Preamplifier was designed to be absolutely transparent in its handling of audio information and completely effortless and non-fatiguing to listen to. It plays music better than any preamplifier at any cost (in fact, we invite head-to-head comparisons!) The 710 is fully remote-controllable, has six line inputs and an unbeatable MC/MM phono section.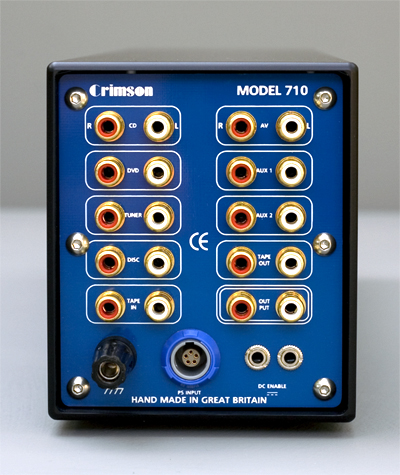 The Crimson 710 Preamp's rear panel
Analog Signal Path + Digital Control
• All-analog signal path with digital control section
• The power supply unit provides separate and totally electronically isolated DC power to the analog and digital sections
• Power supply to preamp connections are made with medical-grade Lemo plugs and sockets
•The power supplies are internally regulated and smoothed many times before use
Moving Coil + Moving Magnet phono input
• The phono section is built with all discrete components
• Gold-contact DIP switch on main board for selecting moving coil or moving magnet operation
• Phono stage noise is close to the theoretical minimum
• RIAA equalization is within 1 dB
Inputs + Outputs
• Six line-level inputs + 1 phono input + tape input and output
• Independently selectable tape outputs
• All inputs and outputs are via gold-plated RCA sockets
Controls
• The 710s switched resistor bank volume control is extremely transparent
• The front panel control buttons are solid-state switches with gold-plated contacts
• LED display may be dimmed or switched off from the remote control
• Previous volume and balance memory for each input
Remote Control
• The remote controls input selection, volume (in 255 steps), balance, mute and power/standby
Small + Tough
• The outer sleeve is a hefty anodized aluminum extrusion which provides a Faraday electrical shield for minimum pickup of interference
• Preamp dimensions: height: 4.5" width: 3.75" depth: 14"
The Crimson 640E-III Mono Amplifier
$6000.00/pair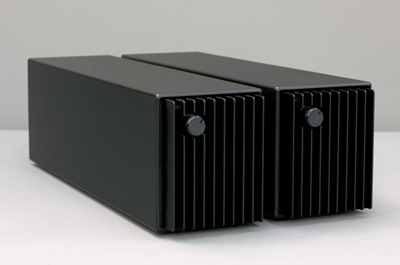 The 175-watt per channel monoblock Crimson 640E Series III amplifiers have a completely redesigned circuit board. The power supply has been greatly improved and a star-grounding layout has been added. There's also improved DC protection circuit topology to make the amp virtually bulletproof. The 640E-IIIs have parallel inputs and may be daisy-chained, which makes them ideal for bi-amping and tri-amping and for multi-channel operation. The small footprint (which the 640E-IIIs share with the rest of the Crimson range) means that a 710 and two 640E-IIIs take up about the same space as a basic receiver.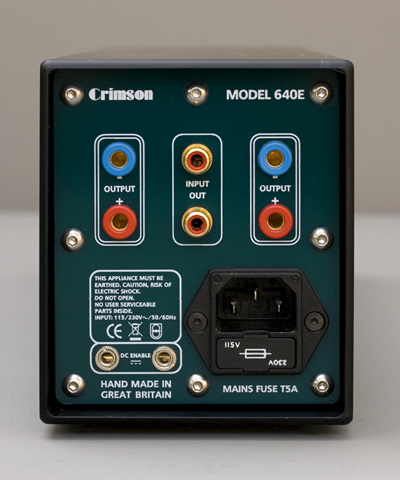 The Crimson 640E-III Amplifier's rear panel
The Crimson 640E-III Mono Amplifier - audio performance
power output:
2 x 175 watts into 8 ohms
2 x 250 watts into 4 ohms
peak output current:
17A per channel
input sensitivity:
775mV
distortion:
typically 0.01%
freq. response:
10Hz to 40kHz @ -1dB
output resistance:
inductor + wiring @ 0.1R
slew rate:
>20V/microsecond
signal-to-noise ratio:
+100dB
The Crimson 620E-III Stereo Amplifier
$3000.00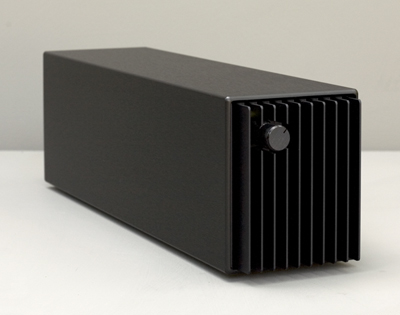 The 50-watt per channel Crimson 620E-III is cut from the same cloth as its big brothers, the 640E-III mono amplifiers. It's clean, transparent and fast!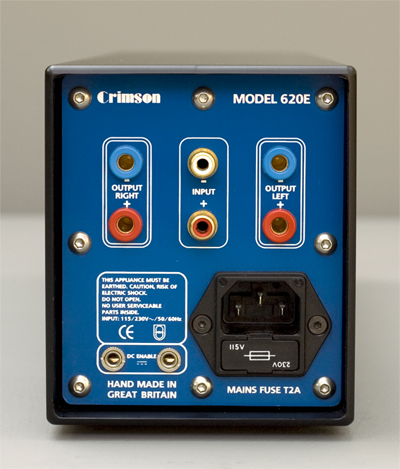 The Crimson 620E-III Amplifier's rear panel
The Crimson 620E-III Stereo Amplifier - audio performance
power output:
2 x 50 watts into 8 ohms
2 x 75 watts into 4 ohms
peak output current:
17A per channel
input sensitivity:
775mV
distortion:
typically 0.01%
freq. response:
10Hz to 40kHz @ -1dB
output resistance:
inductor + wiring @ 0.1R
slew rate:
>15V/microsecond
signal-to-noise ratio:
+100dB
Crimson PDF Manuals